How DIY Crafters & Entrepreneurs Skyrocket Revenue With Amazing SVG Designs
Make Custom Products That Sell!
Are you a diy crafter or entrepreneur who wants learn how to make custom shirts, coffee mugs, tumblers, tote bags, stickers, vinyl decals, wall art or any product that you can add your own design to? Look no further! Startup Remedy offers high quality ready-made SVG designs in a variety of niches to help jump start your product creation.

Ready-made SVG designs make it easy to start your own custom product business. You don't have to be a graphic designer to create beautiful products that your customers will love. With our high quality SVG designs, you can focus on what you do best – making amazing products. With a little imagination, the possibilities are endless.
You'll Discover
The types of products that you can create with SVG designs.
What is a SVG file and the benefits of using SVG designs.
How to save time and money by using ready-made svg designs.
The best vector photo editing software to create and edit svg designs.
How to access to our wide collection of SVG Designs.
How to print your svg designs on t-shirts.
Where to sell your products online with ease.
How DIY Crafters & Entrepreneurs Skyrocket Revenue With Amazing SVG Designs
Click To Tweet
What is a SVG Design
SVG, or Scalable Vector Graphics, is a file format specifically for images that can be scaled up or down without compromising quality. It's often used for logos and illustrations, as they retain their sharpness no matter how big or small they are. They're the opposite of traditional image formats like JPG and PNG, which become pixelated when enlarged; this makes them ideal in situations where you need an image that will still look good at any size no matter what device it's viewed on! SVG files can be created in any vector editing software such as Adobe Illustrator, InkScape, and Canva.
SVG cut files are also supported by popular cutting machines like Cricut & Silhouette, making it a popular choice for craft projects. Whether you're creating a logo, designing a t-shirt or creating a wall art for your home or office decor, SVG design files are an excellent option for your image design needs.
Why SVG Files Are Better Than JPG & PNG
In this image example, you can see that JPG and PNG heart image on the left becomes pixelated and blury when it's scaled to a larger size. This happens when you create an image with small dimensions and low resolution. If you want to use a JPG or PNG file, then you should always design images with high resolution 300 DPI.
As you can see with the right heart image, the SVG vector file does not lose quality if you enlarge the image.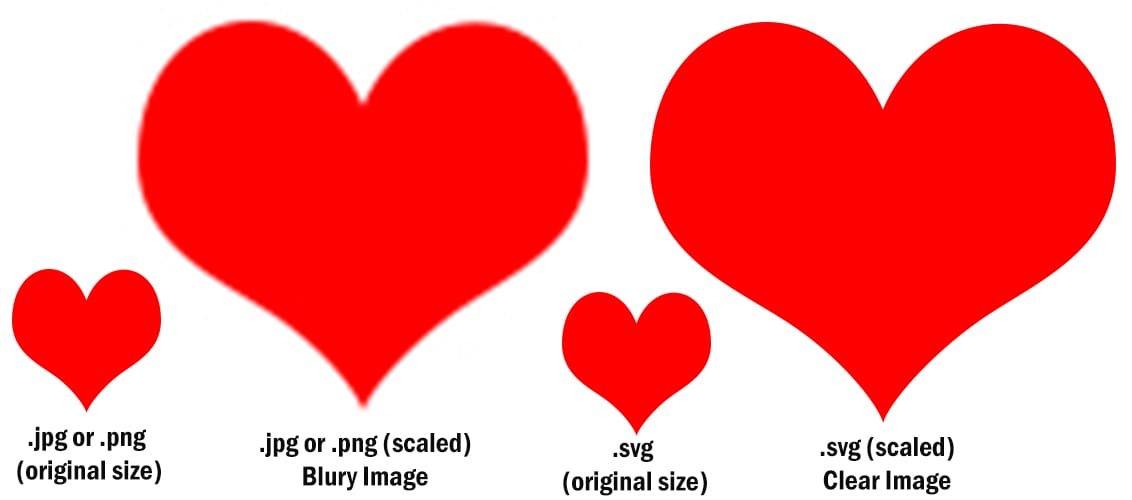 How to create a SVG Design
When creating an SVG Design, you must first choose your image editing software. You'll start by creating a basic shape in a vector editing program like Adobe Illustrator for advanced users or Canva's free image editor for beginners. Once you have your basic shape, you can then add color, patterns, and even gradients. In addition, you can also add text and images to your SVG file. Once you're happy with your design, you can then export it as an SVG file.
How To Use Canva
Canva is a user-friendly graphic design tool that is perfect for creating svgs, png, jpg, pdf files and videos. With a simple drag and drop interface, it is easy to create complex designs with Canva.
To get started, simply create an account at canva.com and then log in. Once you're logged in, click on the "Create a Design" button and select "Custom Dimensions." In the "Width" field, enter 1000 px and in the "Height" field, enter 1000 px. This will create a square canvas that is perfect for creating svgs, you can resize the image anytime.
You can upload your own image elements, change the font type, colors scheme, background and add clipart and photos to your design.
Once you have created your image, then you can then download it as a SVG file for use on your website, printable or send it to your Cricut cutting machine by using Cricut Design Space photo software.
With Canva, creating SVG cut files is quick and easy, anyone can do it!
What is Cricut Cutting Machine
Cricut machines are used for cutting paper, felt, vinyl, fabric and other materials such as leather, matboard, and wood. With Cricut machines, you can easily create personalzied gifts and custom products by adding vinyl, engraving or stencil from the svg cut file designs.
How to Make T-Shirts With Cricut
Create a custom SVG Deisgn in a photo editor or buy a ready-made SVG Cut File.
Download & install Cricut Design Space via design.cricut.com. This sofware will allow you to create and edit designs and send it to your cricut maker printer.
Buy a Cricut Maker Cutting Print Machine – Learn More
The cutting machine will cut your design onto iron on transfer paper.
Buy Iron On Transfer Paper.
There are many styles and patterns to choose from. – Learn More
Buy Cricut Tool Set – Once your design is printed, you need to cut the design into the correct shape on the transfer paper. This set of Cricut accessories comes with a spatula, weeder, scraper, a pair of scissors & a pair of tweezers. – Learn More
Buy a Cricut Heat Press – Learn More
Once your design is printed and cut on the transfer paper, then you will place the design on your blank t-shirt and put the heat press over the design. After about 30 seconds, your design will be embedded in your shirt.
How To Edit Image Text & Colors In Cricuit Design Space
SVG files can be easily edited directly in cricut design space. You can customize the color, add or remove elements, or add additional text.
Where to Sell Your Products
When it comes to selling products, there are many places that can help you get started. Here's a list of some of the best online options available.
Print On Demand
Do you want to sell custom tshirts, coffee mugs, home decor or apparel online with minimal cost or effort? If so, then we recommend Printful. They are a trustworthy company who will supply the product, print the design and ship to your customers. They have a variety of high quality products that you can easily add your designs to.

Pros: No upfront product cost, you only pay for the product when it sells. You can focus on designing and marketing. Printful integrates with WordPress, Shopify and Etsy.

Cons: No control of the product quality or shipping. You need to connect your products to another website platform to build your store.

Alternatives: Printify, Red Bubble and Amazon Merch

Tip: Order a few samples of your products in different sizes and test the quality of different brands before creating and listing them for sale. For T-Shirts, the Bella Canvas 3001 is a great quality t-shirt that comes in a variety of colors.
Create Your Own Website
If you want to maintain control of your product inventory, printing and shipping, then create your own e-commerce website. We recommend Shopify and WooCommerce for WordPress.

Pros: 100% contol of your product workflow.
Cons: You need website design/graphic skills or hire a web designer.
Alternative: Wix
Sell On Popular E-Commerce Stores
Online shopping has grown in popularity and millions of people place orders daily from Amazon & Etsy. If you're a new startup or an existing company seeking to get major exposure, then we highly recommend selling your products on either of these sites. If you are a new brand, then we recommend Etsy. It's easy to setup and you can start selling instantly. Amazon is a great option, however, they may or may not approve your products.
Pros: Instant access to millions of shoppers in a 'buying' mode. When people visit these websites, they are looking to spend money, you just need to do keyword research to identify products that people are looking to buy.
Cons: You pay additional fees which cut into your profits.
Tip: You should always have your products on your own website in addition to these sites to build your brand.
Where to Buy SVG Designs
Startup Remedy offers high-quality, professionally designed SVG files for your business needs. We offer business svg designs, real estate svg designs, crypto currency svg designs, nft svg designs, holiday svg designs, birthday svg designs, religious svg cut files and more . Our designs are high resolution, professional, fun, and ready-made so you can download each graphic instantly.
Alternatively, many shops on Etsy sell svg cut files. All designs are unique, and there are various niches to choose from.
Real Estate SVG Designs
As a real estate agent, you are always looking for new ways to market your listings and attract potential buyers. Real estate svg designs are a great way to add a personal touch to your marketing materials. You can use our real estate svg files to create custom t-shirts, mugs, bags, realtor signs and more. Plus, each svg file can be easily cut with a Cricut machine, making it perfect for DIY projects. Whether you're looking for a unique way to promote your latest listing or looking for a fun way to show your clients that you're the best in the business, our real estate svg designs are a great option.
Religious SVG Designs
Many people enjoy decorating their homes with religious wall art, or they love to show their faith by wearing religious t-shirt sayings. Our religious svg designs can be used to create beautiful t-shirts or can be used to decorate any room in the house. With a little creativity, our religious svg image designs can be used to create unique and stylish products that will be cherished for years to come.
Business SVG Designs
If you are an entrepreneur, then buying ready-made entrepreneur svg files can be a great way to start your own t-shirt business. You can buy business svg designs and create products to sell as print on demand, your own e-commerce store or sell your products at craft fairs. Alternatively, if you are a CEO or Boss that wants to showcase how much you hustle and grind, then our ceo svg files are perfect for creating quick t-shirts, mugs, printable wall art and more.
Wedding SVG Designs
Wedding svg images are the perfect way to add a personal touch to your wedding party t-shirts, bachelorette t-shirts, groomsmen t-shirts and wedding gifts! Our wedding svg files can be used with any vector editing software, making them easily customizable to fit your wedding theme. Since svg files are Scalable Vector Graphics, they'll look great on any size t-shirt, from the flower girl to the groomsmen sizes. Whether you're looking for t-shirt designs for the bride and groom, or designs for the entire bridal party, our wedding svg images are a great way to add some personality to your wedding party. You can incorporate our wedding svg images to create invitations, save the dates, thank you cards, and more.
Birthday SVG Designs
Birthday svg files are the perfect way to create birthday gifts for boys or girls. With just a few clicks, you can turn any birthday design into a t-shirt, mug, bag or print. Since birthday svg files are easy to customize, you can add your own personal touch to each gift. Birthday svg files are also a great way to show your birthday spirit. Whether you're making a shirt for yourself or a friend, birthday svg files are a fun and creative way to show your birthday pride. So, if you're looking for unique and meaningful birthday gifts to create, then look no further, we have plenty of birthday svg designs to choose from.
Holiday SVG Designs
What better way to show your holiday spirit than with a creative holiday t-shirt? Whether you're looking for a Christmas SVG, Thanksgiving SVG, Halloween SVG, 4th of July SVG, or Valentine's Day SVG, we've got you covered! Our holiday SVGs are perfect for creating custom t-shirts, mugs, face masks, bags, and more. So get into the holiday spirit and start creating today! Browse our holiday svg collection and find the perfect image for your next project!
Crypto SVG Designs
Cryptocurrency projects such as Bitcoin, Ethereum, Dogecoin and Shiba Inu are on the rise, which means there's an increased demand for cryptocurrency-themed apparel. Our crypto svg designs are a great way to show support for your favorite crypto project or token. We have a wide variety of crypto svg designs available, ranging from funny, sarcastic to serious.
NFT SVG Designs
A non-fungible token, or NFT, is a type of cryptocurrency that represents a unique asset. NFTs are stored on a blockchain, like other cryptocurrencies, and can be bought, sold, or exchanged for other assets. While NFTs are similar to traditional assets like stocks or bonds, they differ in that they are not interchangeable—each NFT is unique and cannot be replaced by another. This uniqueness makes NFTs well suited for representing digital art, music, or other collectibles.

Many NFT enthusiasts, crafters and designers are now using NFT SVG designs to show pride for their NFT collections. Our NFT SVG designs are an excellent resource to create NFT T-Shirts, Hoodies, Stickers, Tumblers, Printable Wall Art and more.
Conclusion
If your goal is to increase your revenue, then you can do so by creating and selling custom products online. The startup cost is minimal and with the right plan, products, time and dedication, the earning potential is unlimited.
At Startup Remedy, we want to help diy crafters and entrepreneurs succeed. We've done the hard work for you, so you can skip the hassle of hiring a graphic designer.
You'll get access to amazing SVG designs that are perfect for any diy project or product you want to create. You'll be able to make custom t-shirts, coffee mugs, tumblers, tote bags, stickers, vinyl decals, wall art and so much more – all with your own product!

Our SVG designs are digital downloads so nothing will be shipped.
Simply choose a design from our shop, download the image file, upload it to your photo editing software, print, cut and add the design to your product!
Browse our collection of SVG designs today and start creating your products with stylish and professional graphics!